Michelle was a Co-Chair, with Dr. Nick Horton of Amherst College, of the National Academies of Science, Engineering, and Medicine's Workshop on the Foundations of K-12 Data Science held in Washington, D. C. and online Sept 13-14. The convening sought to share the state of the art from research and practice in Data Science Education. It marked one of the first national events dedicated to the topic, and reflected a variety of approaches to data science education including curricular integration across school subjects, standalone courses and pathways, out-of-school structures, tool and curriculum development, and more.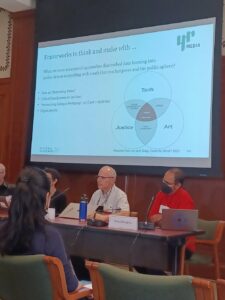 Above: Lissa Soep shouts out CoRE Postdoctoral Fellow and YR Media Scholar-at-Large Dr. Cherise McBride's work on Humanizing Collegial Pedagogies.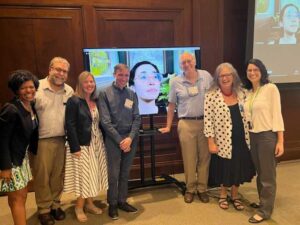 Above: Group photo of workshop organizers. From left to right: Tamara Clegg, Nick Horton, Amy Stephens, Zarek Drozda, Camillia Matuk, Tim Erickson, Hollylynne Lee, Michelle Wilkerson.